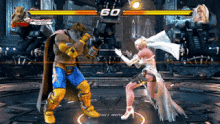 A 10 Hit Combo  (10連コンボ Jūren Konbo) is a generic move that is available to almost all characters throughout the Tekken series. Most characters have their own unique 10 Hit Combo, while others have multiple unique 10 Hit Combos. A 10 Hit Combo is not an attack as such, more a sequence of attacks, each requiring a button input.
As each attack is a separate move, there are opportunities for the opponent to block, escape or counter a 10 Hit Combo, but significant damage is dealt if all 10 hits connect. 10 Hit Combos can be difficult to execute as many require fast and accurate button inputs. Missing a cue in a command chain will break the combo, leaving the player vulnerable to counterattack.
Practice Mode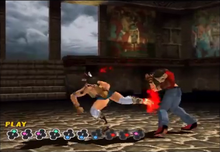 In the first three games in the series you can view a 10 Hit Combo from the 'Display' option on the pause screen in practice mode. When selected, a command input will be displayed on screen and a chime will sound to indicate correct inputs, allowing players to practice the timing of the combo. Pressing 'Select' while in this mode will have the computer demonstrate the combo.
From Tekken Tag Tournament onward you can select and view 10 Hit Combos from a character's command list in the pause menu.
Videos