Anna has worn various outfits throughout the series but has always retained her distinctive satin dress as her primary costume. Anna is a sexually attractive woman with black hair in TK1 and TK2, but in TK3 and onward, her hair is brown. She also has black eyes but from TK5 and onward it was naturally blue. She wears her hair cut into a neck length short bob like hairstyle in earlier games, however it becomes somewhat shorter in later games and Tekken 5 gives her short eye length side locks that frame her face. In Tekken 6 onward her hair is now cut into a proper well coiffed bob haircut and her eye length side locks are omitted, although her Tekken 6 CG artwork still keeps the original Tekken 5 look. In Tekken Tag Tournament 2 her bob-cut is further detailed, appearing much more thicker, having a more blunt concave appearance and being more dynamic in terms of movement, making her look further more sophisticated and womanly. In Tekken 7 her bob cut is now slightly shorter and more straight cut, with her fringe being shorter as well, almost akin to Tekken 5. She tucks the left section of her hair behind her left ear this time around, giving her a more casual look.
Appearance wise much like her older sister she has a curvaceous figure and large bust, as well as statuesque legs which are accentuated with her dresses and high heels. Besides her signature dress she is noted to dress in somewhat revealing attire that often show off her cleavage or legs and she frequently wears heels with her outfits. Her dress style as far as customization goes seems to vary from professional and conservative to revealing and teasing. She is able to dress as both a witch and vampires for example, and she can also don nurse attire as well as wear different types of makeup. Her hairstyles seem to consist of professional, yet practical hair styles such as pinned up, slicked back, in a Japanese up do, and even in a dyed blond semi long wavy style in Tekken 6.
Player 1 outfit:
At the age of 18, Anna fights in a red strapless red ankle length dress, featuring a bow on the back and a hip length slit on her left leg. An oriental design depicting an exotic and colorful bird standing atop a cherry blossom branch was embroidered across the right leg and the outfit was completed with brown tights, red stilettos and long red satin evening gloves. The bird later faces left in Tekken 5-onward. 
Player 2 outfit:
Consisted of a blue palette swap of her primary costume.
In Nina's ending, Anna wears a red tank top, black jeans and red high heels. This is her casual outfit where she was asking Nina about her missing shoe.
Anna's hair is brown in her CGI art but in her in-game, it was black.
Player 1 outfit:
Anna returns in the same costume with a minor alteration to the dress's avian design as it is reversed to face the opposite direction.
In Tekken: The Motion Picture, She wears this outfit while fighting against her older sister Nina before being devoured by several Alex's sent by Lee.
Player 2 outfit:
Once again a blue palette swap of her primary costume.
In Nina's ending, Anna wears a reddish brown collared jacket with a gray undershirt, a matching trousers with the same color with a white belt around her waist and brown shoes while visiting her father's grave while Nina points a gun at her sister.
In her ending, Anna was naked when Nina takes a picture at her and has her hair tied up with a large red hair clip.
Anna finally changes the color of her hair from bluish black to her natural hair color, brown.

Player 1 outfit:
Dress becomes high backed with the bow at the small of her back becoming more prominent. The dress sported gold edging along the lower seams and floral patterns on the skirt portion. Anna also wore a red ribbon choker with an emerald pendant around her neck.
Player 2 outfit:
Once again a blue palette swap of her primary costume.
Player 3 outfit:
While her Player 2 costume remained a simple palette swap, she gained an additional third costume which can be unlocked when Anna is used more than 25 times. It also appears to be the first commissioned costume in the series, having been designed by manga artist Mamoru Nagano. Her third costume is a catsuit in white tiger fur/print with white fur trimmings running over the shoulders and ending at the lower back. A zip with a gold ring runs down the front of the outfit and it is completed with a gold collar and armlet, fur trimmed black leather gloves, open toe black platform slingbacks and a furry bowler hat.
In Nina's ending, Anna wears a red winter coat with her brown dress beneath.
In her two endings in each version, Anna wears a red strapless bikini.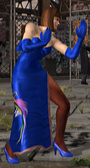 In the Arcade version, Anna retains all her costumes from Tekken 3, but gains a new costume. (Which to select a certain outfit, the player has to select the character with the proper button.) However in the console version of the game, She retains her gowns from Tekken 2.
Player 1 outfit:
(See Tekken 3 Player 1 outfit)
Player 2 outfit:
(See Tekken 3 Player 2 outfit)
Player 3 outfit:
(See Tekken 3 Player 3 outfit)
Player 4 outfit:
Consists of a military style suit with an orange hair band and thigh length green boots. There are camouflage patterns.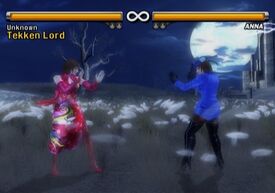 Player 1 outfit:
While Anna retained her trademark dress as her primary costume in Tekken 5, its design received a slight revamp and seems influenced by the Chinese cheongsam with some western modifications. It features a traditional mandarin neckline and covers Anna's back entirely, but is completely sleeveless, has a cleavage opening, and has a parallel leg slit down only one side of the dress. The fabric of the dress seems to be satin brocade featuring Chinese symbols overlaid with floral designs. The length is shortened slightly to end above the ankles and the "stylized" bird design is embroidered more prominently towards the "center" of the lower half of the dress. Anna's shoes feature ankle straps, the bow tails at the back of the dress are longer, her tights remain brown but now with a floral pattern and her opera gloves are replaced with floral lace ones that go between her middle finger. They match the "color" of her tights respectively. In Dark Resurrection, her trademark dress is now blue resembling her colors from her previous Player 2 outfit.
Player 2 outfit:
Tekken 5 features the first completely original secondary costume for Anna, consisting of a blue suit jacket and miniskirt; matching fedora hat with feather; black leather gloves; and black, thigh high, leather boots with side zips. In Dark Resurrection, the color of her suit jacket, boots and hat are now white.
Player 3 outfit:
Anna also has an additional third costume, once again designed by Mamoru Nagano, which can be purchased from the customization menu. This outfit was inspired by the ones used in certain music festivals but it featured a cropped, black bustier; black, "checkered" shorts tied at the waist with a black bow, she has a red cellphone dangling on the left of her shorts which resembles that of a Red Motorola RAZR or the Motorola Ferrari, and black platform heels with white furry straps.a hip length, black, sleeveless jacket with white trimmed lapels; a black choker and black platform heels with fur straps instead of military-style boots to look more like a festival attendant. Her third outfit is no longer be purchased in the update version.
In her prologue, she wears a light pink short sleeve loose button shirt while she was contacted by Nina before wearing her primary outfit to clash with her older sister upon meeting.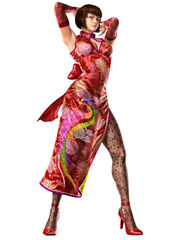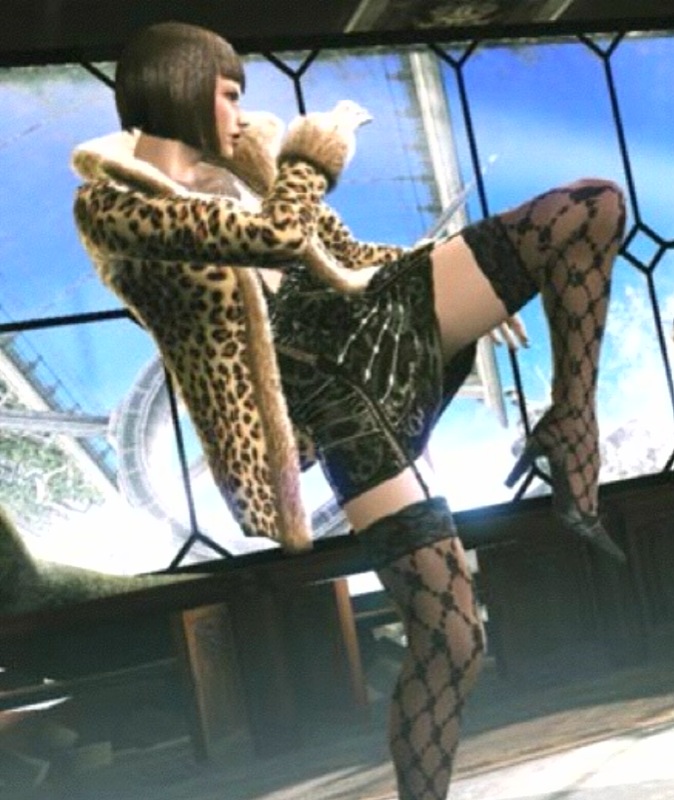 Player 1 outfit:
As most of the characters in Tekken 6, Anna regained her Tekken 5 Player 1 outfit, that means the same of Dark Resurrection, but red.
Player 2 outfit:
As a secretary and bodyguard of Kazuya Mishima in G-Corporation, Anna wears a black lingerie/mini dress made of black lace with 5 silver wires attached around the dress. She has a Leopard Fur Coat with a furry lapel and cuffs over the Lingerie. She is wearing black lace fishnet stockings with black lace welts. She is also wearing a garter belt on her front that's hanging from the bottom of her lingerie attached to her stockings.
Her shoes consists of black high slingback pumps with roses embossed on it with six wires decorated on it. She is wearing a three stranded silver necklace with a few silver stones and tassels with one sapphire on the third strand positioned in the middle.
In her (and Nina's) ending, the dress became red and she wore her 1P pumps and her stockings have the same lace seen in her 1P outfit. Her Leopard Fur Coat was instead white. Her necklace is not there at both endings.
Anna has a variety of themes for her customization: a Nurse Theme, a Witch Theme, a Military Theme, a Gothic Theme, a Classic Theme, a Vampire Theme, and a Maid Theme and her third outfit in Tekken 3/Tekken Tag Tournament zebra catsuit became a customization item.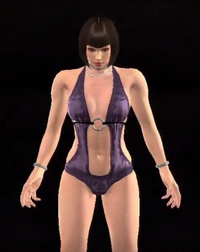 Player 1 outfit:
Anna's A outfit is her traditional one with a slight revising.
Player 2 outfit:
Anna's B outfit has an octopus theme and is very revealing. It's used in Fight Lab.
Player 3 outfit
Anna's last outfit, like many others is a customization.
Her Swimsuit DLC has her wearing a modernized one-piece suit with silver sparkles.
Anna returns in Tekken 7 as one of the DLC characters in Season 2 along with Lei Wulong and the fourth guest character Negan from Image Comics' The Walking Dead. Like her older sister Nina, Anna wears a different outfit as a contrast to her red or blue trademark gown in the previous games.
Player 1 outfit:
Anna wears a revealing black and red Gothic formal gown with feather designs. At the back of her dress have several large red and black feathers. The front of her dress has a brown sheer cloth to show up her belly and the sleeves of her dress, her dress skirt has a crisscross design similar to a corset as her underskirt is red and has black feather designs as the skirt reaches to her left leg to reveal black intricate design that may be tattoos or part of her leg wear, and black intricate high heels. Anna is now adorned with a red and black feather hair accessory and wears an intricate black choker with a small red ruby jewel along her neck to match her intricate high heels. She also wears her hair with the left front side tucked behind her ear.
When she was hit by her opponent several times, her red and black feather hair accessory are knocked off to show the single fringe at the left side to cover the half of her left ear.
This outfit Anna wears is her mourning dress as her wedding dress was currently worn by Nina after she stole it from her to assassinate her fiance on the day of their wedding.

Player 2 outfit:
Anna wears light pink/lavender/white version of the new default outfit.
She gains more revealing customization such as the pirate costume and swimsuits which is a contrast to the females' swimsuit DLC beneath her revealing casual attires. She can also customized her previous primary outfit in Tekken 5 as well as her shoulder bob hairstyle but her entire red dress became darker.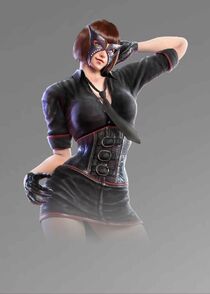 Player 1 outfit:
(See Tekken 5 Player 1 outfit) (2-Star)
Unlockables:
(See Tekken 5: Dark Resurrection Player 1 outfit)
Her blue alternate primary outfit is changed to indigo and her gloves are light purple. But in-game it was reverted back to blue. (1-Star)
(See Tekken 6 Player 2 outfit) (3-Star)
One of her customization in Tekken 6. She wears a black collared shirt with a matching corset as the sleeves are below the elbows with folded sleeves with the red trim, tight fitted short skirt with a red trim and navy blue thigh-high boots and black laces. She wears black gloves and was accessorized with a black loose neck tie on her neck and a dark purple two sharp butterfly mask with gold linings and seven diamonds in each sides as the mask conceals half of her face. The butterfly mask that she wears comes from one of Nina's customization in Tekken 6. (4-Star)
Community content is available under
CC-BY-SA
unless otherwise noted.