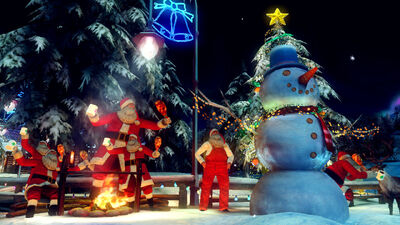 Arctic Dream is a stage in Tekken Tag Tournament 2 and Tekken Revolution. It also referred to as The Christmas Stage due to its decoration and setting.
It takes place in Finland. The stage is set at night in a snowy stretch of land. It is also Christmas (or at least getting towards it), as men dressed up as Santa Claus holding chicken legs swaying over a campfire, two women in traditional Sami dresses, several others in winter clothes, a few gates leading up to a cabin/lodge, Christmas lights and decorated evergreen trees can be seen in the distance. Reindeer and snowmen are also present, as is the cabin/lodge and some signs. Several people bobsledding down to the cabin/lodge and the real Santa's sleigh and flying reindeer can also be seen, the latter soaring in the sky. An 'Aurora Borealis' can also be seen in the sky.
Background Music
The stage BGM is titled "Sadistic Christmas", alternately called "Sadistic Xmas."
Gallery
Trivia
It is similar to Manji Valley in terms of the snowy surroundings.
It appeared in the Christmas trailer.
It is the second "holiday-themed" stage in the franchise, the first being All Hollow's Eve.
Jingle bells (the musical instrument) are used in the music in a few places, but the music sounds more like a wild march than a Christmas tune.
If team battle has ended in this stage when it shows the sky, nothing will move except the flying sled.
Community content is available under
CC-BY-SA
unless otherwise noted.