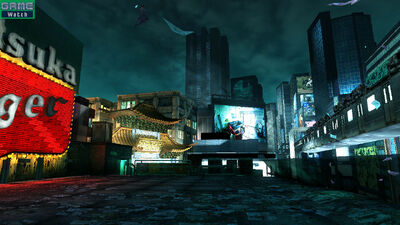 City After Dark is a stage in Tekken 6: Bloodline Rebellion and the console version of Tekken 6. The stage features a large, brightly-lit neon sign of a real-life running shoes brand, a functioning elevated suspension railway, an oriental-themed building, several other. buildings, and a few skyscrapers
Description
Advertisements for fictional products, like a watch brand or juice can be seen playing on a screen in the backdrop, along with a small trailer of a horror film.
On the other side of the stage, flags of various countries are projected rapidly one at a time on a building's wall.
Background Music
The stage BGM is titled "Death Fight At The Neon".
Gallery
Trivia
The glowing neon-lit sign displays the logo of the classic Japanese footwear brand Onitsuka Tiger. Bruce Irvin has also a custom item t-shirt sporting the logo of the now-extinct brand (currently named ASICS).
The glowing neon sign can also be broken/damaged during a battle if a player is thrown into it with enough force.
In Scenario Campaign, the player fights against Paul here if the player successfully chases him to the end.
This stage looks similar to Shinjuku and the City Lights stage from previous installments. It also looks similar to the place where Paul was shown in the Tekken 3 console opening.
Near the pagoda-style building, a moving billboard with a logo and the text "Medicern" can be seen. This is the same name and logo as seen on the doors in G Corporation's labs in the first two stages of the Devil Within mode from Tekken 5. Beneath the name is the text "We illuminate the world with the power of science."
This is one of the four stages, the other three being Cemetery, Fallen Colony and Electric Fountain, to have their BGM play in character reveal trailers.