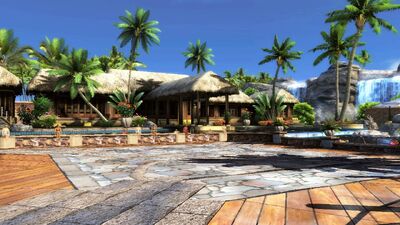 Eternal Paradise is a stage in Tekken Tag Tournament 2 and Tekken Revolution. The stage is set in a patio area near a holiday resort in Fiji. It is bordered with low walls and a higher fence in some areas. Palm trees and pools surround the stage and huge waterfalls can be seen behind the pool areas. Girls sitting on the low walls around the stage can be knocked down if a player hits one of them.
Background Music
Tekken Tag Tournament 2
Tekken Revolution
Gallery
Trivia
It is thought that this stage is a remake of Roger's Beach stage due to its background music being a remix and the fact that the beach is able to be seen in the distance.
If the player knocks one of the ladies who are sitting on the low walls into the pool, they will earn the Trophy/Achievement "Bad Date".
A variant of this stage also appears in Tekken Revolution, but the colors appear to be more vivid and graphically saturated than its original. Dolphins can be seen in the small pool areas next to the actual people in the pool peaking out from the water.
Community content is available under
CC-BY-SA
unless otherwise noted.