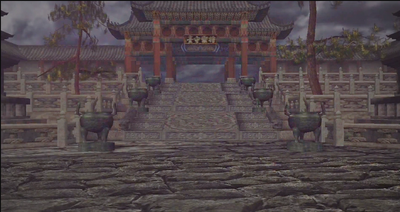 Hwoarang is the stage of Hwoarang in Tekken Tag Tournament. The stage appearance and much of its design was actually reimagined from his Tekken 3 stage, Taekwondo Dojo.
The stage takes place at an Korean Buddhist temple. The weather is stormy and it is possible to see lightning in the sky, illuminating the course at the same time. There is typical Asian architecture with pagoda-shaped roofs. Two stone pagodas face each other. Stairs lead from each side to different parts of the temple. Various copper incense burners are placed at the steps and smoke is seen escaping from them.
Background Music
PlayStation 2 Version
Arcade Version
Gallery
Trivia
Embu 1 takes place in this stage.[1]
References
Community content is available under
CC-BY-SA
unless otherwise noted.