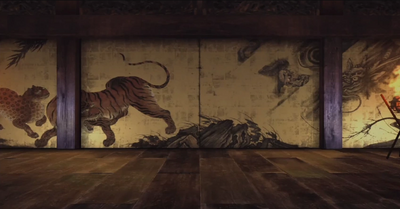 Jin-A is the first stage of Jin Kazama in Tekken Tag Tournament. Its layout is based on Jin's Tekken 3 stage, Tiger Dojo Tokyo.
It takes place in a Japanese dojo, in a place in the mountains. It is possible to see the landscape outside where a thick fog covers the forest. The light of the moon dazzles the dojo. It is the night-time counterpart to his second stage, Jin-B.
Description
A large traditional Japanese painting named nihonga covers part of the dojo where you can find a tiger and a leopard in front of a dragon. The design on the wall panels features that of tigers, paying a homage directly to his original stage.
Background Music
Arcade Version
PlayStation 2 Version
Gallery
Trivia
The picture of tigers in the background is actually from a painting by Kanō Sanraku called "Tigers and Dragons".

The painting represents the tension between a descending dragon accompanied by wind and clouds facing the tiger who roars to challenge him.