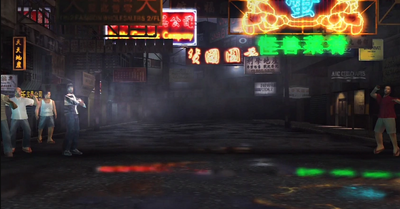 Lei, is a Lei Wulong's stage from Tekken Tag Tournament. This stage is very reminiscent of Lei's Tekken 3 stage, Hong Kong Street.
This stage likely takes place in a Chinese neighborhood, noted by the many billboards and lighted signs that are usually featured in such. There are various neon glowing signs and billboards written in Chinese hanging up around buildings. They illuminate through the fog and puddles of water are scattered on the ground. The neon signs reflect onto the fighters. The stage is pretty dark and late at night with a bit of mist. There are people in the background surrounding the fighters and cheering them on.
Background Music
PlayStation 2 Version
Arcade Version
Gallery
Trivia
Bryan's ending takes place here.
In the arcade version, a Triforce is visible in the background on one of the signs.
The stage could possibly be inspired by Mong Kok, the most lively district of Hong Kong.
Community content is available under
CC-BY-SA
unless otherwise noted.