'Tekken 7' - Negan Official Gameplay Reveal Trailer
Play Sound
Please note: This article discusses a character whose origins are outside the Tekken universe. Certain links will guide you to The Walking Dead Wiki for more information about the character.
Negan Smith (ニーガン・スミス, Nīgan Sumisu?) is the leader of a survivor group known as The Saviors in Image Comics' The Walking Dead comic book series and in AMC's TV series of the same name. Charismatic and power hungry, Negan forced his iron-fist rule to whatever group of survivors he encountered and never hesitated to kill others if it meant intimidating people into submission.
Negan was first teased at EVO 2018 as part of the second wave of Tekken 7 DLC characters, and is the fourth guest character to be added to the roster, after Akuma, Geese and Noctis. He was released alongside Julia on February 28, 2019. Like the other two crossover DLC characters before him, he was bundled with a stage themed around his origin series, Negan's stage is Last Day on Earth.
Biography
Personality
Appearance
Negan is a tall man with graying black hair and brown eyes. He carries his signature baseball bat which is wound with barbed wires at the tip.
Outfits
Main article: Negan Smith/Outfits
Story
Note: Negan's backstory and presence in the game are likely non-canonical.
The Walking Dead's Negan, the charismatic leader of the Saviors, brought other communities together under his thumb with the motto "people are a resource." One day, Negan received reports that an unknown group had taken out several of his men. Per his standard policy, he enacted a plan to capture and make an example of them. The survivors fell into Negan's carefully laid trap, but, just as he was choosing his victim to serve as an example, the group put up an intense fight and escaped. Negan worried they would disturb his new world order if he did not deal with them swiftly. Taking his barbed-wire bat Lucille - named after his beloved wife - into his hand, he set out to take care of these foolish ingrates who would challenge his authority.
Gameplay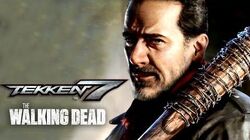 Negan's fighting style and moves is possibly based on Underworld Brawling in its purest form and relies on hitting his opponent using his barbed-wired baseball bat named Lucille. During the execution of the move, it has a bloody effect which he uses Lucille to smack his opponents in a bloody fashion.
His rage art has him knock his opponent with Lucille. Once the opponent regains consciousness as the camera focuses on Negan in a blurred fashion to smack his opponent with Lucille, dealing heavy damage.
Moves
Quotes
Trivia
Gallery
Main article: Negan/Gallery
See Also