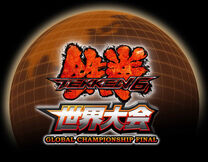 The Tekken 6 Global Championship Final (鉄拳6世界大会 Tekken 6 Sekai Taikai) was the largest Tekken tournament to ever take place.  It was sponsored by Namco Bandai Games and had two main categories: PlayStation 3 and Xbox 360.  The finals were held in Tokyo, Japan and two winners out of each category were chosen.
Japan Round
The finals were officially known as the Japan Round. They were held at the Tokyo International Forum in Tokyo, Japan on March 7, 2010. Each console category would have 4 finalists; two of which would become the 1st and 2nd place winners.
Finalists
PlayStation 3/PSP
1st place Winner - DaRK_PRInCE (LAW) - Malaysia(Penang)
2nd place Winner - Yuu/ユウ (Feng) - Japan
Other Finalists:
Zeugaru (Bob) - Japan
chetchetty (Paul) - America
aris - America
Gen1us - France
STEVE88 - Italy
Xbox 360
1st place Winner - Nin (Steve)
2nd place Winner - Boradoldol (Baek)
Other Finalists:
Nobi/ノビ (Dragunov) - Japan
Nin-Nin/にんにん (Yoshimitsu) - Japan
MrNaps - America
Insanelee - America
lucho_83cor - Sweden
Prizes
1st Place Prize
2nd Place Prize
Community content is available under
CC-BY-SA
unless otherwise noted.