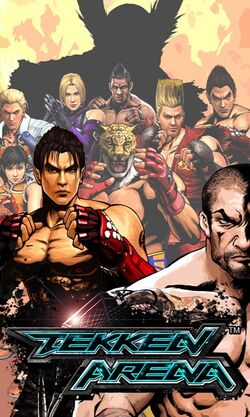 Developer:
Namco Bandai
Publisher: Namco Bandai
Producer:
Katsuhiro Harada
Platform: iOS, Android
Release date:
October 29, 2013
Genre: Free-to-Play, Social, Mobile, MMORPG
Mode: Online Multiplayer
Distribution: Digital Distribution
Current Version: 1.0.7
Tekken Arena is a free-to-play MMORPG published by Namco Bandai Games and was released on iOS and Android on October 29, 2013.
Description
The international conglomerate, G-Corporation is holding MMA competitions across the globe in order to recruit the greatest fighters in the world. Never before has a tournament of this magnitude been opened to the public.
Characters
There are also three unnamed new male characters (can be seen in Gallery), as well as some unplayable characters like Doctor Bosconovitch and Feng Wei.
Gameplay
Stats
Characters can customize their stats in one of two categories.
Discipline Proficiency
Boxing
Karate
Kung Fu
Brazilian Jiu-Jitsu
Wrestling
Discipline Proficiency can be affected by level ups (3 points to be allocated per level), equipping various gloves and by successfully recruiting apprentices by winning Street Fights.
Power
Stamina (affects HP)
Striking (affects Boxing, Karate and Kung Fu)
Grappling (affects Jiu-Jitsu and Wrestling)
Defense
Power is augmented in Training, where players spend money to increase stats over time and to increase the stat limits.
Modes
Two modes are available:
Quest
Uses Energy and Battle Points (BP) in event of Boss Fights. Results in money, EXP and items.
Battle
Street Fight uses Battle Points (BP) to challenge other players in showdowns for EXP and money, plus chances to recruit as an apprentice if the player wins.
Championship uses BP to enter tournaments, either all-around or discipline-specific (with various requirements) to obtain powerful gloves and promotions.
Gallery
External links