Tekken Tag Tournament 2 (鉄拳タッグトーナメント2, Tekken Taggu Tōnamento?, lit. Iron Fist Tag Tournament 2) is a fighting game in the Tekken series and the successor to 1999's Tekken Tag Tournament. The game was released in Japanese arcades on September 14, 2011, with the console versions being released on September 11, 2012 for the PlayStation 3 and Xbox 360. It was ported to the Wii U as one of the system's launch titles in November 2012, subtitled Wii U Edition. A playable demo for the PlayStation 3 was included with the Tekken Hybrid collection, which was released in North America on November 22, 2011, and Europe on November 25, 2011, alongside the CGI movie, Tekken: Blood Vengeance. An update for the arcade version, Tekken Tag Tournament 2 Unlimited, was released on March 27, 2012 in Japan.
Gameplay
As in the original Tekken Tag Tournament, matches involve each player selecting two fighters to fight with. Players are able to switch their fighters out at any time, allowing the inactivate character to gradually recover some life they might have lost. At certain points, an inactive character's life bar may flash, giving them a temporary boost in strength if they are tagged in. If the life bar of either of a player's fighters runs out, that player loses the round. If time runs out, the player who has the most cumulative life remaining amongst their fighters wins the round.
The gameplay expands on the tag mechanics featured in the first Tekken Tag, allowing for extended tag combos and combined moves. New techniques include combined tag throws which, if timed properly, can be escaped from. Tag combos (referred to as "Tag Assaults") can be done simultaneously with both characters participating in the combo at the same time. The game inherits gameplay features from Tekken 6, such as "Bound" hits (hits that slam an airborne opponent to the ground and stun them so combos can be extended) and walled arenas, some of which featuring walls and floors that can be broken through during the fight. Character customization is also featured, similar to past Tekken games.
Features suggested by Katsuhiro Harada include recording in Practice mode as well as a Tutorial, to make the game more accessible for new players. The game features a "stage gimmick" system. For instance, an example of the system shown has the player slamming their opponent into wall, which breaks and the opponent goes flying, landing in a new area where the fight continues. As the opponent falls, the tag partner is waiting at the bottom to continue the combo. The game features various modes, allowing players to choose between Tag Team (2 vs 2), Single (1 vs 1), or Handicap Matches ( 2 vs 1 or 1 vs 2), options for four players to play in a single match, and various online modes. Along with returning modes such as Arcade, Versus, Team Battle, Time Attack and Survival, a new mode called Fight Lab allows players to train a Combot through various challenges. The game also features various items that can alter the gameplay, ranging from weapons such as firearms and hammer hats to superficial items such as specialized KOs, and allows players to customize their fighters with various accessories.
In the Unlimited version, the player can switch a ratio between Tag mode or Solo mode. There is also a Pair Play mode, in which can play maximum 2 of 4 players, like in the previous installment Tekken Tag Tournament. The Solo Mode uses a term of Tekken 6 styles while the Tag Mode uses the previous Tekken Tag 2 styles, such as the rage, combo and stage systems.
The Wii U Edition includes the return of the mini-game Tekken Ball from Tekken 3 and a Mushroom Battle mode in which various mushrooms from the Mario series litter the arena, causing players to grow or shrink in size or take extra damage. It also features optional touch-based controls using the system's gamepad, as well as costumes based on Nintendo media franchise.
Complementary pages:
Plot
Unlike the original Tekken Tag Tournament, the game's sequel features a storyline although it is still not the series canon. However, certain characters' endings are canon, which are followed in the sequel game Tekken 7. In the story, Heihachi Mishima has developed a rejuvenation serum, which has the ability to regress his appearance and power. After consuming it, Heihachi hosts another King of Iron Fist Tournament, sensing powerful challengers who would come to the tournament.
In "Fight Lab" section of the game, Lee Chaolan, under the guise of Violet is working on a new version of Combot. As soon as Combot is complete, Violet begins its simulation test. After the simulation test, the Combot explodes and destroys the lab. Violet decides to use the other functioning Combot to complete the tests. After Combot completes five tests, Violet kidnaps Jin, Kazuya and Heihachi for Combot's final test. Combot apparently has the upper hand, but Jin transforms into his Devil form and destroys it. Violet blows up the Combot, presumably taking the Mishima bloodline with it, and says, "Excellent!".
Development
Tekken series producer Katsuhiro Harada teased an announcement on his Twitter feed on September 17, 2010 ("TGS Sep 18(Sat) at Tougeki Booth. I'll announce something :D"). It was rumored to be something related to Tekken X Street Fighter or Tekken 7. The game was announced to be Tekken Tag Tournament 2, sequel to Tekken Tag Tournament, on September 18, 2010 at the Tougeki event as promised. Producer Katsuhiro Harada stated that the game engine would be different from the one used in Tekken 6. The release of the arcade version of the game in Japan was originally planned for summer 2011, but due to complications derived from the Great East Japan earthquake, the arcade release was postponed until Autumn 2011. At the World Cyber Games 2010, Harada stated that the console version would feature additional console-exclusive returning characters and bonus gameplay modes. He also suggested that the release of the console version of the game would take place between the releases of Street Fighter X Tekken and Tekken X Street Fighter.
The Tekken Hybrid Blu-ray Disc collection, released on November 22, 2011 contains the Tekken: Blood Vengeance CGI animated film and an HD version of the original Tekken Tag Tournament, as well as a demo version of Tekken Tag Tournament 2, called Tekken Tag Tournament 2 Prologue for the PlayStation 3. The contents of the prologue mainly revolve around elements of the movie, and features four characters: Alisa Bosconovitch, Devil Jin, Devil Kazuya and Ling Xiaoyu, all of whom feature new costumes (the school uniform for Alisa and Xiaoyu, and the new Devil design from the movie for Devil Jin and Devil Kazuya).
Tekken Tag Tournament 2 Unlimited
On February 16th, 2012, an upgrade was announced at the AOU 2012 under the name of Tekken Tag Tournament 2: Unlimited, or Tekken Unlimited.
The upgrade is to features not only 2vs2 battles, but also 1vs1, and as an entirely new addition, 1vs2 battles. Additionally, the gameplay was balanced out for any battle format to be as enjoyable as the other ones. Tekken Unlimited went online for Arcade machines on March 27th, 2012.
Wii U Editon Exclusive Features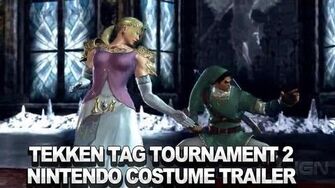 At Nintendo's E3 2012 conference, Tekken Tag Tournament 2 was officially confirmed for the Nintendo Wii U console. All of the characters in the Wii U Edition are given at least one alternate costume based on a Nintendo character from various series such as Super Mario, The Legend of Zelda, and Star Fox, and all DLC characters for the other versions are included for free in the Wii U Edition.
Other features include Mushroom Battle, which allows for characters to pick up Super Mushroom items for unique Nintendo power-ups. Touch panel moves with the Wii U Gamepad, and the beach volley battle mode Tekken Ball. The Wii U version has the most detailed set of customization options for the game.
The Wii U exclusive Nintendo costumes are:
Tekken Tag Tournament 2 Prologue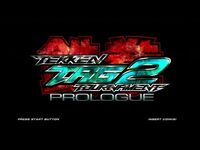 Tekken Tag Tournament 2 Prologue is a demo of the game that was included in Tekken Hybrid. There are four playable characters to choose from based on their appearance in Tekken: Blood Vengeance; they are:
Live Action Short Film
In 2012, the company Wild Stunts Europe made a live action short film, directed by Vincent Gatinaud, and
presented by Bandai Namco. The short movie was release by Namco on youtube with the tagline "The combat never ends with Tekken Tag Tournament 2 even in real life!". It featured stunt performances by actors playing Marshall Law (Alex Vu), Lee Chaolan (Anthony Pho), Hwoarang (Daren Nop), and Lars Alexandersson (Jonathan Henry), with further cameo appearances from Ling Xiaoyu (Xuan Thanh Nguyen), Alisa Bosconovitch (Amandine Desprez) and Kazuya Mishima (Kefi Abrikh).
Playable Characters
Returning Characters
Alex (Console version only)
Alisa Bosconovitch
Ancient Ogre (DLC, Console version only)
Angel (DLC, Console version only)
Anna Williams
Armor King II
Asuka Kazama
Baek Doo San
Bob Richards
Bruce Irvin
Bryan Fury
Christie Monteiro
Combot (Console version only)
Craig Marduk
Devil Jin
Doctor Bosconovitch (DLC, Console version only)
Eddy Gordo
Emilie De Rochefort
Feng Wei
Forest Law (Console version only)
Ganryu
Heihachi Mishima (Sub-boss 1, along with Jinpachi)
Hwoarang
Jack-6
Jin Kazama
Jinpachi Mishima (Sub-boss 1, along with Heihachi)
Jun Kazama (Final boss Round 1)
Kazuya Mishima / Devil Kazuya (Devil Kazuya acts as an in-battle transformation for Kazuya)
King II
Kuma II
Kunimitsu (DLC, Console version only)
Lars Alexandersson
Lee Chaolan
Lei Wulong
Leo Kliesen
Ling Xiaoyu
Marshall Law
Michelle Chang (DLC, Console version only)
Miguel Caballero Rojo
Miharu Hirano (DLC,Console version only)
Mokujin
Nina Williams
Panda
Paul Phoenix
Prototype Jack (Console version only)
Raven
Roger Jr.
Sergei Dragunov
Steve Fox
Tiger Jackson (Console version only)
True Ogre (Sub-boss 2)
Unknown (Final boss round 2, unplayable in arcade version, DLC for console version)
Violet (DLC, Console version only)
Wang Jinrei
Yoshimitsu
Zafina
Stages
Music
Videos
Trivia
Gallery
Tekken Tag Tournament 2/Gallery
Community content is available under
CC-BY-SA
unless otherwise noted.